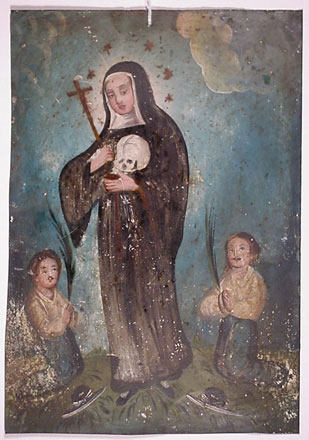 Retablo, Oil paint on tin
Mexico, late 19th century
Santa Rita de Casia
ca. 9" x 13"
$555.00
#Lret42
Condition good. A little paint loss at the bottom of the painting, especially near the bottom left corner.
Details of: Santa Rita's face, crucifix, skull | kneeling figure
The painting shows St. Rita dressed in the garb of an Augustinian nun, holding a skull in her left hand and contemplating the crucifix that she holds in her right hand. A ring of stars is around her head. At her feet are two smaller kneeling male figures, their hats on the floor in front of them and a palm branch against their chest. (According to one scholar, these may represent St. Rita's sons; according to others, they more likely represent two martyred saints whose feast day is the same as that of St. Rita. This is more likely because they hold palms, which are symbols of martyrdom.) On the right side of the painting, and less prominently on the left, are clouds.