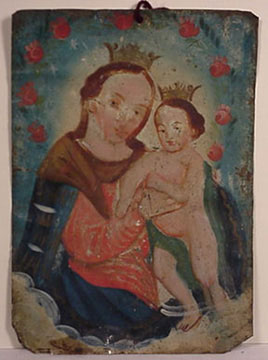 Retablo
Oil paint on tin
Mexico, late 19th century
Nuestra Seņora, Refugio de Pecadores
(Our Lady, Refuge of Sinners)
ca. 7" x 10"
$187.00
#Lret1
Condition moderate; paint mostly intact; bottom corners are partly cut away; tin sheet is bent in several places and the sheet as a whole is bent into a somewhat concave shape.
In this standard depiction of Nuestra Seņora, Refugio de Pecadores, the Virgin is crowned and holds the Christ Child, who is crowned, naked, and covered by a translucent robe. TheVirgin wears a red robe and a blue cloak and is surrounded by twelve stars (in this image, some of the stars are worn away, and the Virgin is surrounded by a halo of nine roses). With his left hand, the Christ Child holds his mother's right thumb. The Virgin is depicted half-length and mother and child rest on clouds.